Product No.: AS-040
Asiaticoside 40%
Product Picture: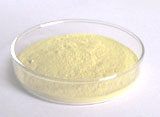 Introduction:
Asiaticoside is extracted from leaves of Centella asiatica (L.) Urb. (syn.: Hydrocotyle asiatica, Gotu Kola), which has been used as a medicinal herb for thousands of years in India, China and Indonesia.
Synonyms:
Gotu Kola Extract, Centella Asiatica Extract, Asiaticosid, Emdecassol, Madecassol
Molecular Structure of Asiaticoside:



Molecular Formula: C48H78O19
Molecular Weight: 959.12
CAS No.: 16830-15-2


Specifications:
Botanical Origin: Centella Asiatica ( L.) Urban - Leaf
Identification: Positive by TLC
Appearance: Light yellow powder
Odor & Taste: Characteristic odor and taste
Mesh Size: 90% Min. through 80 mesh
Assay: Asiaticoside 40% Min. (HPLC)
Moisture: 3.0% Max.
Heavy Metals: 10ppm Max.
Lead (Pb): 2ppm Max.
Arsenic (As): 2ppm Max.
Pesticides Residues: 1ppm Max.
Total Aerobic Count: 1,000cfu/g Max.
Yeast & Mold: 100cfu/g Max.
E. coli: Negative
Salmonella: Negative

Packing: 25kgs/Fibre drum, two plastic-bags inside or 1kg/bag
Storage: Stored in a well-closed container away from moisture and light
Shelf Life: Two years

Botanical Picture: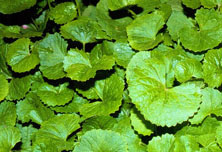 Main Biological Activity:
1. Promoting healthy skin, anti-wrinkle, promoting cicatrization and helping skin conditions, such as burns, scar tissue, psoriasis,and the like.

2. Enhancing mental acuity, staving off memory deterioration.
3. Improving blood flow by strengthening blood vessels, and mitigating unsightly varicose veins.
Main Application:
1. Pharmaceutical
2. Cosmetic
3. Dietary supplements
4. Health food