Product No.: SU-098
Sucralose
Product Picture: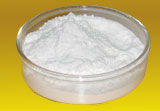 Introduction:
Sucralose is a no-calorie sweetener that is made from sugar. Sucralose occurs as a odorless white to off-white crystalline powder. It tastes like sugar and is approximately 600 times sweeter than sugar. It is freely soluble in water, in methanol, and in ethanol and slightly soluble in ethyl acetate. It is excellent stability in a wide range of processed foods and beverages.
Synonyms: Trichlorosucralose, Splenda , Trichlorogalactosucrose , 1,6-Dichloro-1,6-dideoxy-beta-D-fructofuranosyl 4-chloro-4-deoxy-alpha-D-galactose
Molecular Structure of Sucralose: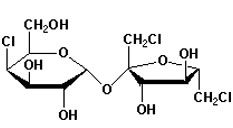 Molecular Formula : C12H19Cl3O8
Molecular Weight : 397.64
CAS No.: 56038-13-2
EINECS: 259-952-2

Specifications(FCCIV):
Identification: Positive by TLC
Appearance: A white to off-white crystalline powder
Odor & Taste: Odorless and intensely sweet
Mesh Size: 100% through 60 mesh
Assay (Dry Basis): 98.0% - 102.0%(HPLC)
Specific Rotation: +84.5 - +87.5 degree
Methanol: 0.1% Max.
Moisture: 2.0% Max.
Residue on Ignition: 0.5% Max.
Heavy Metals: 10ppm Max.
Arsenic (As): 3ppm Max.
Total Aerobic Count: 250cfu/g Max.
Yeast & Mold: 50cfu/g Max.
E. coli: Negative
Salmonella: Negative
Packing: 25kgs/Fibre drum, two plastic-bags inside
Storage: Stored in a well-closed container away from moisture and light
Shelf Life: Two years
Main Application:
1. table-top sweeteners
2. processed fruit
3. carbonated beverages
4. non-carbonated beverages
5. chewing gum
6. baked goods
7. dry-mix products
8. fruit spreads
9. milk products
10. frozen desserts
11. salad dressings


Safety:
Extensive studies have been conducted to support the safety of sucralose. The results of these studies demonstrate that it is safe for human consumption.